3kg Certified Organic Quinoa Red – The Gold of the Incas – El Oro de Los Incas.
This grain, was considered more precious than gold for Andean cultures.
Quinoa are small and round seeds, about as big as Cus Cus. This kind of food is also known as a Super Food. Quinoa is rated as the most nourishing grain in the world and is considered "a complete protein" containing all 8 amino acids essential for human nutrition. The protein quality and quantity in quinoa seed is far superior to those of more common cereal grains. This Super Food is one of Nature's only complete plant based protein sources, its low allergic, naturally gluten free and a great addition to any diet.
Our Quinoa is sourced from family farmers that produce using regenerative and organic agricultural practice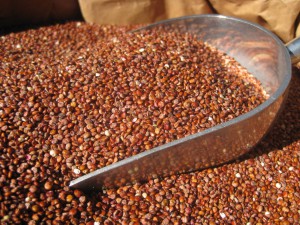 s. This natural way of production helps to protect the healthy carbon rich soils that is key to biodiversity, food security and climate change. In whole we aim to achieve ethical and sustainable relationships for the long term supply of our products.
Now available for shipping 3kg of Certified Organic Quinoa Red. USDA Certified Organic. Also available in Tri-colour, Black and White. Free Shipping. Can ship interstate (VIC, QLD, SA, WA, NT, TAS). Available in bulk for the food service industry such as restaurants, caterers, and delicatessens. Please call 0432490622 for delivery. Also available in 10kg and 5 kg. All enquiries please email us or call 0432490622.